On this blog you will find photos, outlines, notes and thoughts that document the progress of the project. This action-research project would like to research, analyze and understand resistance from a historical and contemporary view. This aim requires from all participants to endure vulnerability, our own, and those of others. As we realize that we are all vulnerable in this process, we also realize the community we form.
---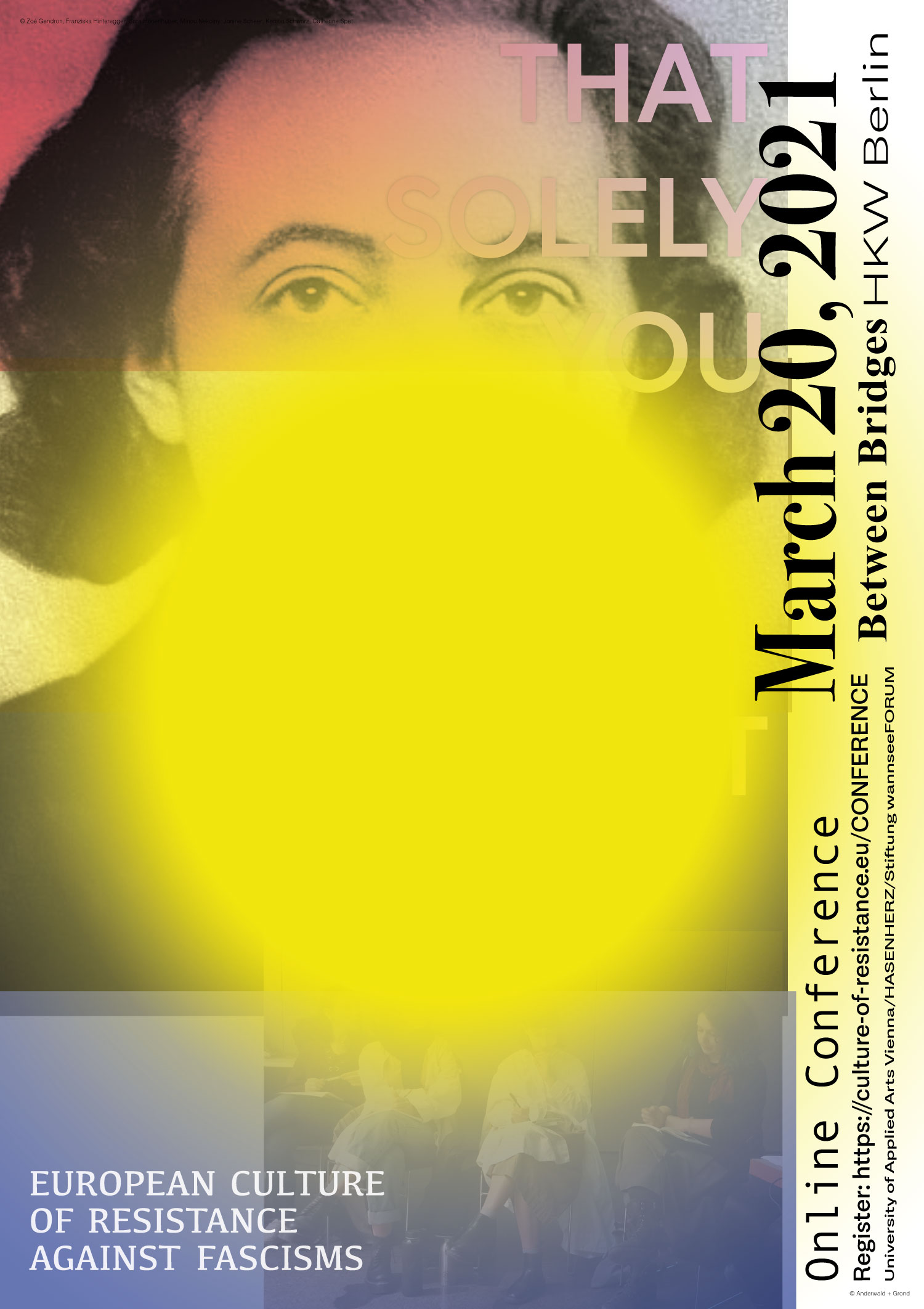 March 10 2020
We are looking forward to the upcoming workshops on March 20, 2021.
Registration
until March 18, 2021. Thank you for the wonderful collaboration with
Between Bridges
,
HKW Berlin
,
Foundation wannseeFORUM
and
die Angewandte
.
---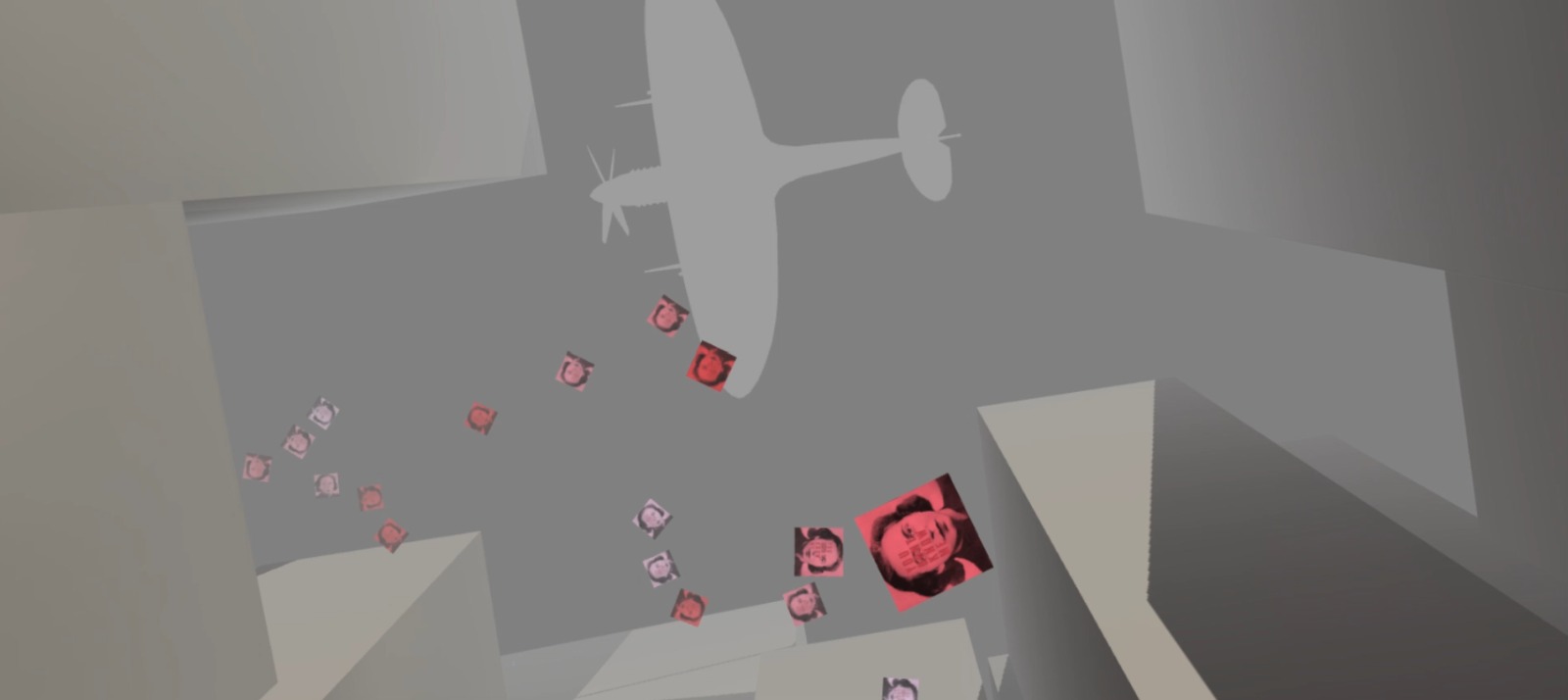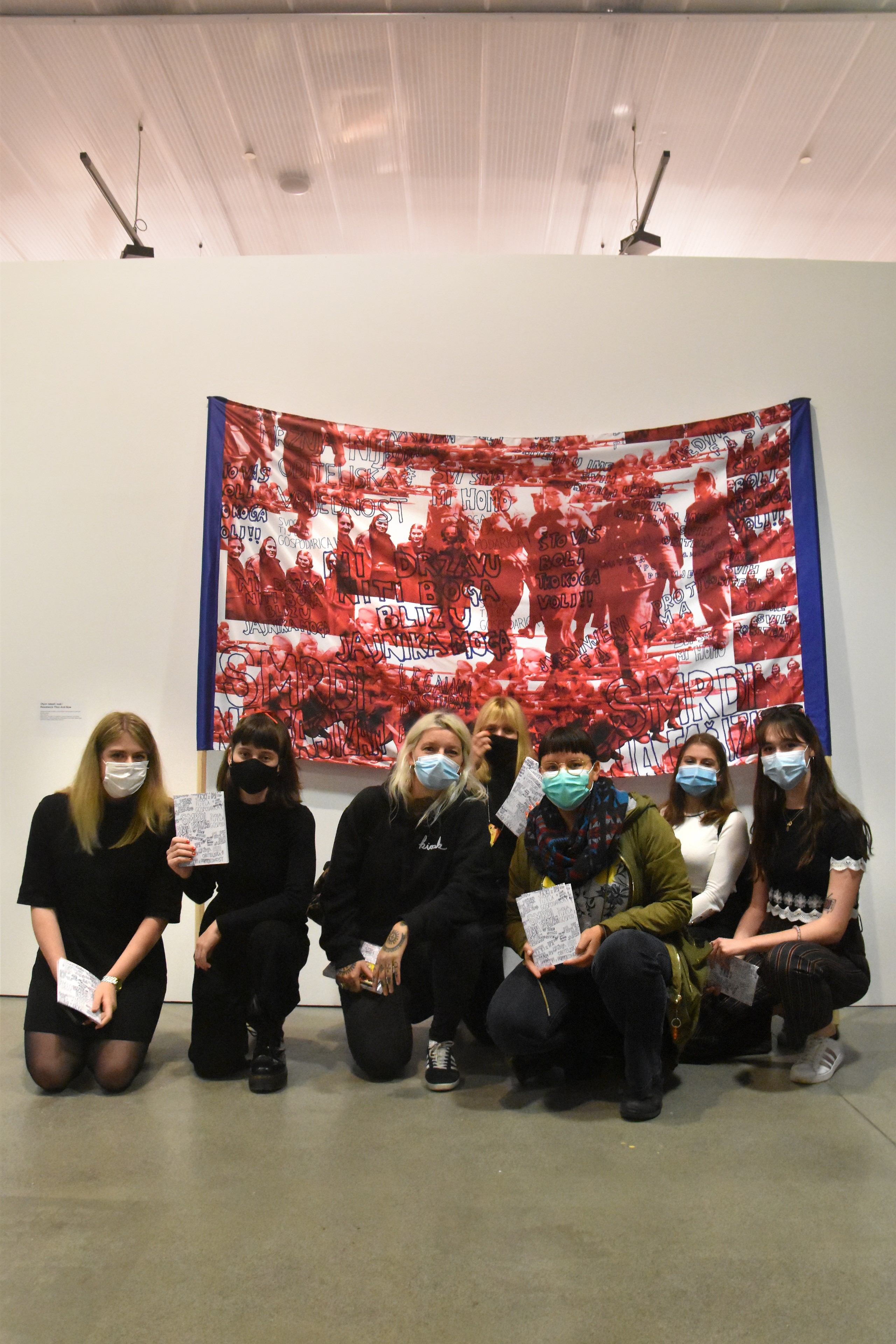 October 14 2020
Opening of the exhibition at
MSU Museum of Contemporary Art Zagreb
This time around, all works can be seen at once in the Open Gallery space of MSU Zagreb. Curator Ana Skegro arranged the expanded exhibition that now also features a new Virtual Reality contribution by the Austrian group. In the picture above you can see the MSU Youth Group with their artist-mentor OKO in front of one of their works.
---
August 04 2020
Cubo Garutti – Piccolo Museion: European project ART WORKS! European Culture of Resistance and Liberation
The second edition of the exhibition features works by the German group of Foundation wannseeFORUM led by filmmaker Katja Pratschke, who contributed
ON THE DOORSTEP
,
a video in seven chapters on the resistance in Berlin during Nazism, and the Croatian group of MSU Zagreb led by artist OKO. Their contribution,
Resistance Then And Now
collages texts and images on a satin banner and in the graphics of a
pamphlet
to create a connection between the actions and significant presence of leading women in resistance movements and the slogans from current protests in Croatia. The aim of the group was to identify contemporary resistance to current fascisms using the aesthetics of protest posters which are a public expression of our hard-won freedom of speech.
---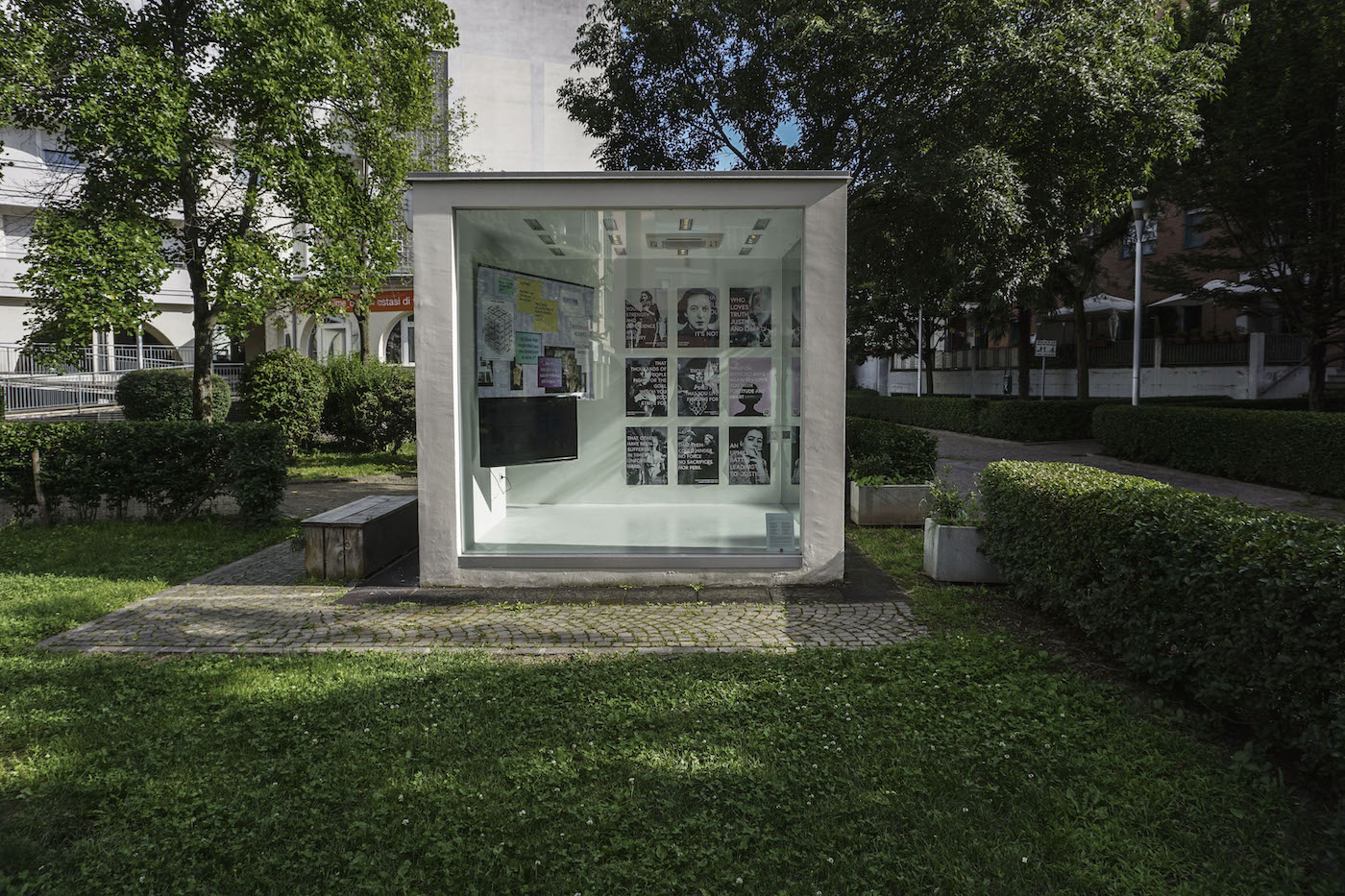 June 18 2020
Cubo Garutti – Piccolo Museion: European project ART WORKS! European Culture of Resistance and Liberation
About Resistance (interfaced)
is a journey taken by a group of young people at Museion together with the artist Alessandra Ferrini. Consisting of a banner and video, the installation depicts the desktop of a computer as a window on the world. This reveals both the compromises and contradictions of the period we are living through with "domestic" lockdown on one hand and global participation on the other.
The Cubo further hosts
Solely You It's Not
, a work produced by a group from the University St. Pölten in Austria mentored by the artist collective Anderwald + Grond. Their work consists of a poster series of European women who took an active part in the Resistance during World War II. It is based on Hilde Meisel's work, an Austrian journalist and writer who fought against the Nazi regime. They also included an audio work that unites different European voices and languages in recitation of Meisel's poem
Das ist's
['tis].
This is the first part of the exhibition of the project ART WORKS!, on view until 02.08.20. From 04.08 to 17.09, there will be the second part with works from the Croatian and German groups and artists OKO and Katja Pratschke. In line with the project's exchange concept, the work produced by groups will on display in rotation at museums in the participant countries: MSU in Zagreb, at HKW in Berlin and at the Peace Museum Erlauf Austria.
---
June 11 2020
ART WORKS! is named on the Council of Europe's
Good Practices Database
for youth work in response to the Covid-19 crisis.
[Read more.]
---
Sometimes, a certain amount of naïveté is necessary for engaging in the world, putting to one side the statistical likelihood of failure for any specific instance[…] Meanwhile, one way or another, simply being together strengthens us, though such assemblies will need to be endlessly repeated, whether in the face of rampant oppression, or confronting the more routine conformity that stifles creativity.
---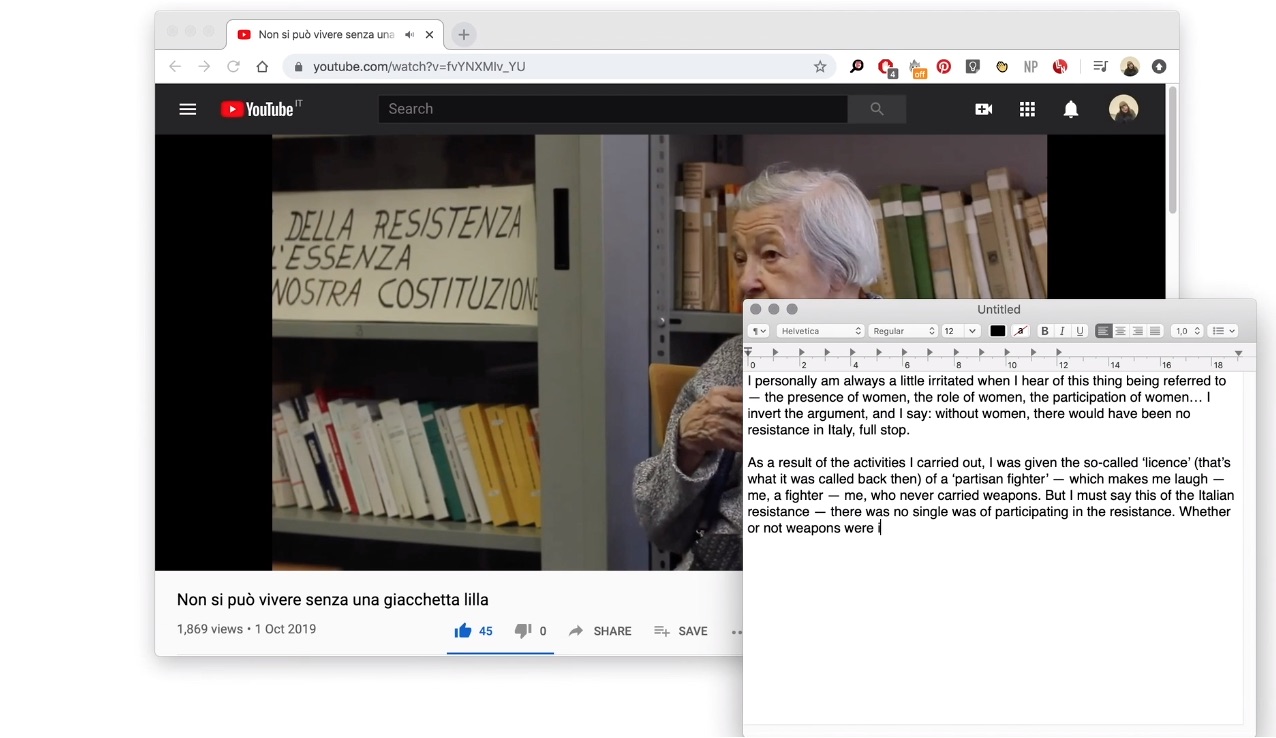 June 8 2020
In 10 days the exhibition at Museion Bolzano,
Piccolo Museion – Cubo Garutti
, will open, and the groups are working on finalizing their contributions. The first part of the exhibition will feature the works of the group of Museion mentored by
Alessandra Ferrini
and the group of FH St. Pölten mentored by
Anderwald + Grond
, as both groups focus on female resistance fighters. After the livestream both groups have produced new site-specific work for this exhibition.
---
May 11 2020
ART WORKS! is proud to take part in the program
histoMEETS
in the framework of
histoCON.
histoCON is an ongoing event series of the
Federal Agency for Civic Education (bpb)
, which is designed to be a platform to share and discuss global perspectives on history and its relation to present and future. The aim is to discuss narratives about historical events, its continuing effects, and lessons that can be drawn from its history. The explicit intention is not only to commemorate the particular historical event but also to consider the implications for the present and future. Furthermore, it is intended to encourage young people from all over the world to get to know different perspectives of history, to question existing narratives, and to reflect on questions of war and peace in today's world. The current situation, which has developed as a result of the novel coronavirus, also raises questions about the official commemoration of the Second World War. We believe that today the situation can be used to rethink commemoration. [
Read more
]
---
May 9 2020
In November we went for the first time to visit the Memorial and Museum Sachsenhausen (https://www.sachsenhausen-sbg.de/en/75liberationsachsenhausen/) and to started our research on the ART WORKS topic: European Culture of Resistance and Liberation. The outbreak of Covid 19 changed our plans. Starting from our own places of residence in Berlin, we researched nearby subcamps of the concentration camp and places of forced labor. On the website of the Documentation Center NS Forced Labor and the German Resistance Memorial Center we found information about locations, resistance fighters, their activities and their fate.We live all over the city, in the center as well as on the outskirts: Lichterfelde, Wedding close to Köslinerstraße and Kolonienstraße, Moabit, Charlottenburg, Kreuzberg, Hoppegarten and Lichtenberg.
From our home, a short walk away, in the same street block or immediate vicinity, we photographed the former places: forced work training camps, concentration camp subcamps, places of resistance activities, secret meeting and hiding places, etc. The photographs have been taken as notations and photographic sequences and edited into photofilms. Three text levels are added, which differ visually: 1. Key words of resistance, 2. The History of the location, 3. Our personal situation: who we are, where we are right now, where we come from and what the lock-down does to us. Some of us included their personal experience of emigration, war and exil.
Sajad Bayeqra, Salma Jaber, Raha Shegeft, Nora Richter, Hamid Mohammadi, Ziyad Ahmed, Marcelina Massenbach, Atau Hámos, Katja Pratschke, group wannseeFORUM Berlin
---
May 7 2020
As part of the international project ART WORKS! - European Culture of Resistance and Liberation we went on the search for artworks, that were created as a sign of resistance. After researching the Resistance during WW II individually, we realized that all of us focused on female historical figures. Thus, we chose to focus mainly on that aspect of the Resistance: the stories and accomplishments of those who are seldomly heard, whose stories are fractured and even harder to re-trace: the female resistance. During our research, we found out about Hilde Meisel - a resistance fighter in the Second World War. We were fascinated by her story and decided to make her poem 'Das ist's' the centrepiece of our artistic work. Using analogue and 3D Animation, 2D visuals and accompanying soundscapes, we created a short film. The goal hereby was to display the unity, diversity and fortitude of those who fought for liberty and justice. Today, 75 years after the liberation of the concentration camps and the end of the war we want to deliver the message Hilde Meisel once tried to make us understand: that solely you it's not.

Zoé Gendron, Franziska Hinteregger, Sara Hörtenhuber, Minou Nekolny, Janine Scheer, Kerstin Schwarz, Catherine Spet, FH St. Pölten in cooperation with Center of Contemporary History Melk

---
May 5 2020
The MSU Youth Club, mentored by artist OKO, started their research individually. After bringing together what they found, they looked into narratives excluded or marginalized from the schools' history books. But they also wanted to include the Yugoslavian war around 1991, because its consequences still shape the political and remembrance culture of today. With the outbreak of Covid-19, they had to deviate from their original plan to make a walk-in sculpture and move into the digital space.
---
May 5 2020
The youth group from Museion Bolzano, consisting of Abram Tomasi, Gessica de Oliva, Samira Mosca, Lucia Rose Buffa, Tomas Grosello, Camilla Saiz, Giada Cardillo, Nicole Fersko, and mentored by visual artist and researcher
Alessandra Ferrini
, has created a video contribution titled
About resistance (in remote-mode).
Their work process can be traced via their specially created Tumblr page:
https://artworksmuseion.tumblr.com
---
General Stanley Reinhart und General Dmitri Dritschkin,
May 8, 1945 in Erlauf © Erlauf Erinnert
Peace Celebration, May 8, 1965 © Erlauf Erinnert, Heereslichtbildstelle
Jenny Holzer,
Peace Monument,
1995 © Erlauf Erinnert
Oleg Komov,
Peace Monument,
1995 © Erlauf Erinnert
May 4 2020
The Soviet general Dmitri Dritschkin and the US general Stanley Reinhart celebrated the Allied victory and the official end of the World War II in the night of May 8-9 in 1945 in Erlauf, but the event was soon forgotten. Twenty years later, US military documents about this meeting were found and sent to Erlauf by two Jewish emigrants, now living in the US. A memorial plaque was officially unveiled at the town hall a few years later. Since then, the city of Erlauf has continued to organize a celebration ceremony every year that eventually evolved into the celebration of
Friedenstage
(Days of Peace).
Following the first celebrations starting in 1965, Erlau has now shifted its focus to celebrate the event with contemporary art. In 1995, peace monuments by Jenny Holzer and Oleg Komov were erected. Art projects in public space and the Peace Memorial Museum's historical and art exhibitions are open to the public. [
Erlauf Erinnert
]
---
Resistance meant also to help the comrades, solidarity.
Yves Briand,
survivor of Melk concentration camp.
---
April 26 2020
We begin our tour of the Melk Memorial at Melk railway station, which is located directly in the centre of the village. Melk has always been famous for its baroque monastery and is considered the 'Gateway to the World Cultural Heritage Wachau'. But why do we start here at the train station? Because the first 500 prisoners arrived here by trainon April 21, 1944. And because all the other 14,000 prisoners from main-camp Mauthausen were also transported here to the train station.


Christan Rabl has produced a virtual tour with 11 short videos through the Melk Memorial. Click here to watch them. [
Virtual tour
]
---
Luftbilddatenbank Dr. Carls GmbH, Dezember 26 1944
© Melk Memorial
April 22 2020
From 1944 to 1945 Melk was a satellite camp of the Mauthausen concentration camp and the most significant satellite camp in lower Austria with about 14.400 prisoners from more than 20 countries. They were forced to work primarily digging an underground tunnel complex in which the Steyr-Daimler-Puch Company produced war material. About 5.000 prisoners died during their imprisonment. The former crematorium building was declared a public monument in 1962, and since has been the home of the Melk concentration camp memorial. A range of exhibitions and events have been organised in an effort to educate and remind the public of the horrible occurrences that have taken place here.
Melk Memorial
is also a project partner and will co-host the online memorial and peace celebration on the 9th of May.
---
April 23 2020
ONE WEEK PEACE is an artistic initiative that aims to affect all human senses in order to sensitize people to the important topic of "peace" through the medium of art. The speakers are concerned with today while at the same time forging a link to the legacy of Nobel Peace Prize Laureate Bertha von Suttner. The Bertha von Suttner Peace Academy is an impulse to take further steps toward the peaceful co-existence of societies in the present and future. The goal is to mobilize peoples' thoughts in regard to peace and to integrate these into everyday life so as to effect the making of peace. [
Read more
]
---
Sachsenhausen Memorial and Museum © Stiftung Brandenburgische Gedenkstätten, photo: Lars Wendt

Memorial Museum Ravensbrück © Stiftung Brandenburgische Gedenkstätten, photo: Britta Pawelke
April 21 2020
These are the online commemoration ceremonies of the former concentration camps
Sachenhausen
and
Ravensbrück.
---
It may seem a ridiculous idea, but the only way to fight the plague is with decency.
Albert Camus

---
Working Group St. Pölten, Feb 26


Working Group St. Pölten, March 12

March 20 2020
Due to the current COVID-19 pandemic, we are moving the artistic working process with all youth groups, artists and partner institutions into the digital realm. Deviating from the planned course, we aim to create an international online celebration of the end of World War II, using the social media and online presence of all institutions and communities involved. More soon.
---
Fascism, racism, sexism, and oppression in general are the product of universal stupidity. You're not going to beat them at the level of opinion. Ideology perpetuates itself on the plateau of opinion because all thought is barred there since it demands disrupting doxa.
Marcus Steinweg
---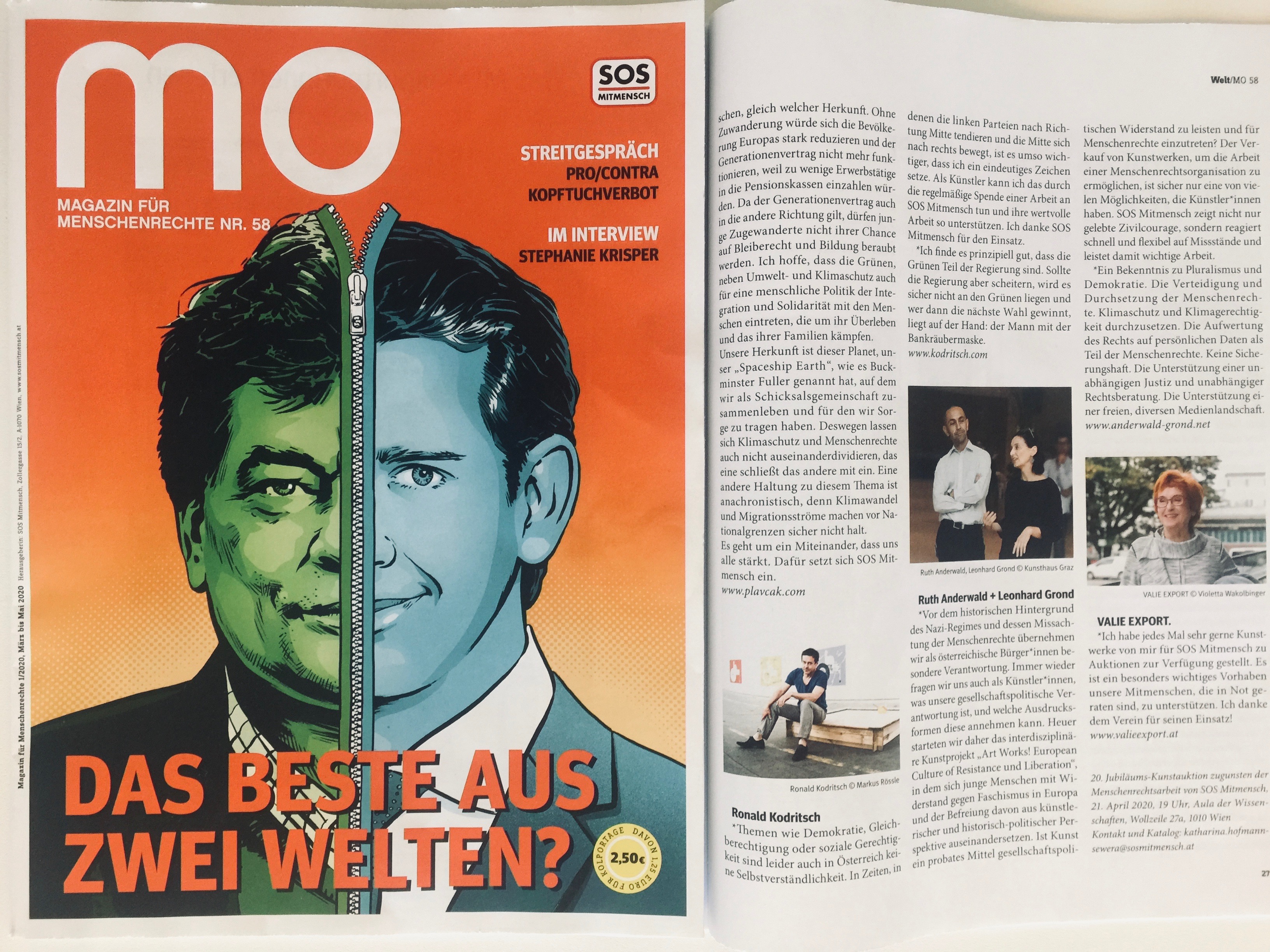 March 11 2020
Demokratie ist kein Kopfbahnhof
[Democracy is not a dead-end station]
MO Journal For Human Rights N°58 p.27
In der "Allgemeinen Erklärung der Menschenrechte" vom 10. Dezember 1948 erklären die Mitgliedsstaaten der UN die angeborene Würde aller Menschen zu respektieren, allen Menschen die gleichen Rechte zu zugestehen und sie vor willkürlicher Gewalt zu schützen. Und es ist kein Zufall, dass diese Erklärung so kurz nach Ende des 2. Weltkrieges verkündet wurde. Gerade das Nazi-Regime hatte aufgezeigt, welch verheerende Folgen eine Missachtung der Menschenrechte hat. Vor diesem historischen Hintergrund übernehmen wir als österreichische Bürger*innen besondere Verantwortung. Immer wieder fragen wir uns auch als Künstler*innen, was unsere gesellschaftspolitische Verantwortung ist, und welche Ausdrucksformen diese Verantwortung annehmen kann. Heuer starteten wir daher das interdisziplinäre Kunstprojekt "Art Works! European Culture of Resistance und Liberation", in dem sich junge Menschen mit Widerstand gegen Faschismus in Europa und der Befreiung davon aus künstlerischer und historisch-politischer Perspektive auseinandersetzen. Ist Kunst ein probates Mittel gesellschaftspolitischen Widerstand zu leisten und für Menschenrechte einzutreten?
[…] Statement by Ruth Anderwald + Leonhard Grond, editor Magdalena Stern.
German only.
---
March 9 2020
The Council of Europe celebrates the 70th anniversary of European Convention on Human Rights
The European Convention on Human Rights came into being against the dreadful background of the devastation of the Second World War, reflecting a determination on the part of European leaders to learn from the mistakes of the past and to help protect individuals from State abuse. Peace and stability could only be achieved by the consolidation of democracy and the rule of law. Inspired by the Universal Declaration on Human Rights, the Convention is a unique, legally-binding treaty, overseen by an independent international court, which safeguards people's basic rights and fundamental freedoms. Initially signed by 12 countries on 4 November 1950, the Convention now protects over 830 million people in 47 European States.
[
Read more
]
---
March 6 2020
Prisoners songs of resistance from the Sachsenhausen concentration camp
More than 200,000 people were interned in Sachsenhausen concentration camp between 1936 and 1945. They included political opponents of the Nazi regime, members of groups declared by the Nazis to be racially or biologically inferior, such as Jews, Sinti and Roma, and people persecuted as homosexuals, as well as so-called "career criminals" and "antisocials". Initially, the internees were predominantly German citizens, but after the outbreak of the Second World War, tens of thousands of people were deported from the occupied territories to Sachsenhausen concentration camp, including political opponents of National Socialism or of the collaborating governments, foreign forced labourers and Allied prisoners of war. In 1944, around 90 % of the internees were foreigners, with citizens of the Soviet Union and Poland forming the largest groups. There were also around 20,000 women among the internees in Sachsenhausen concentration camp. (
https://www.sachsenhausen-sbg.de/en/history/1936-1945-sachsenhausen-concentration-camp/
)
The songs they sung gave them power to resist and to survive. The book was made in the camp organiced by the illegal prisoner resistance organisation. (
Sachsenhausen- Liederbuch
:
Originalwiedergabe
eines
illegalen
Häftlingsliederbuches
aus
dem
Konzentrationslager
Sachsenhausen
/
Günter
Morsch
(Hrsg.), Berlin 1995)
---
March 5 2020
The eyewitness Poul Nielson talks about his time in the Sachsenhausen concentration camp. The interview with him was conducted by Christel Trouvé and Roman Fröhllich in 2010.
As the interview is not public, please send a message to this address
︎
and we will provide the password. Click here for the video:
︎
The video is available only in German.
---
March 4 2020
Uyghurs For Sale
In May we will visit the former concentration camp Melk Memorial, one of the biggest satellite camps of Mauthausen concentration camp, where prisoners were forced to work for Steyr-Daimler-Puch producing war material (mainly ball bearings). Unfortunately, forced labour is not an issue of the past but still very present, even in products we may buy or use on a daily basis.
The Chinese government has facilitated the mass transfer of Uyghur and other ethnic minority citizens from the far west region of Xinjiang to factories across the country. Under conditions that strongly suggest forced labour, Uyghurs are working in factories that are in the supply chains of at least 83 well-known global brands in the technology, clothing and automotive sectors, including Apple, BMW, Gap, Huawei, Nike, Samsung, Sony and Volkswagen. (
Australian Strategic Policy Institute
) [
Read more
]
---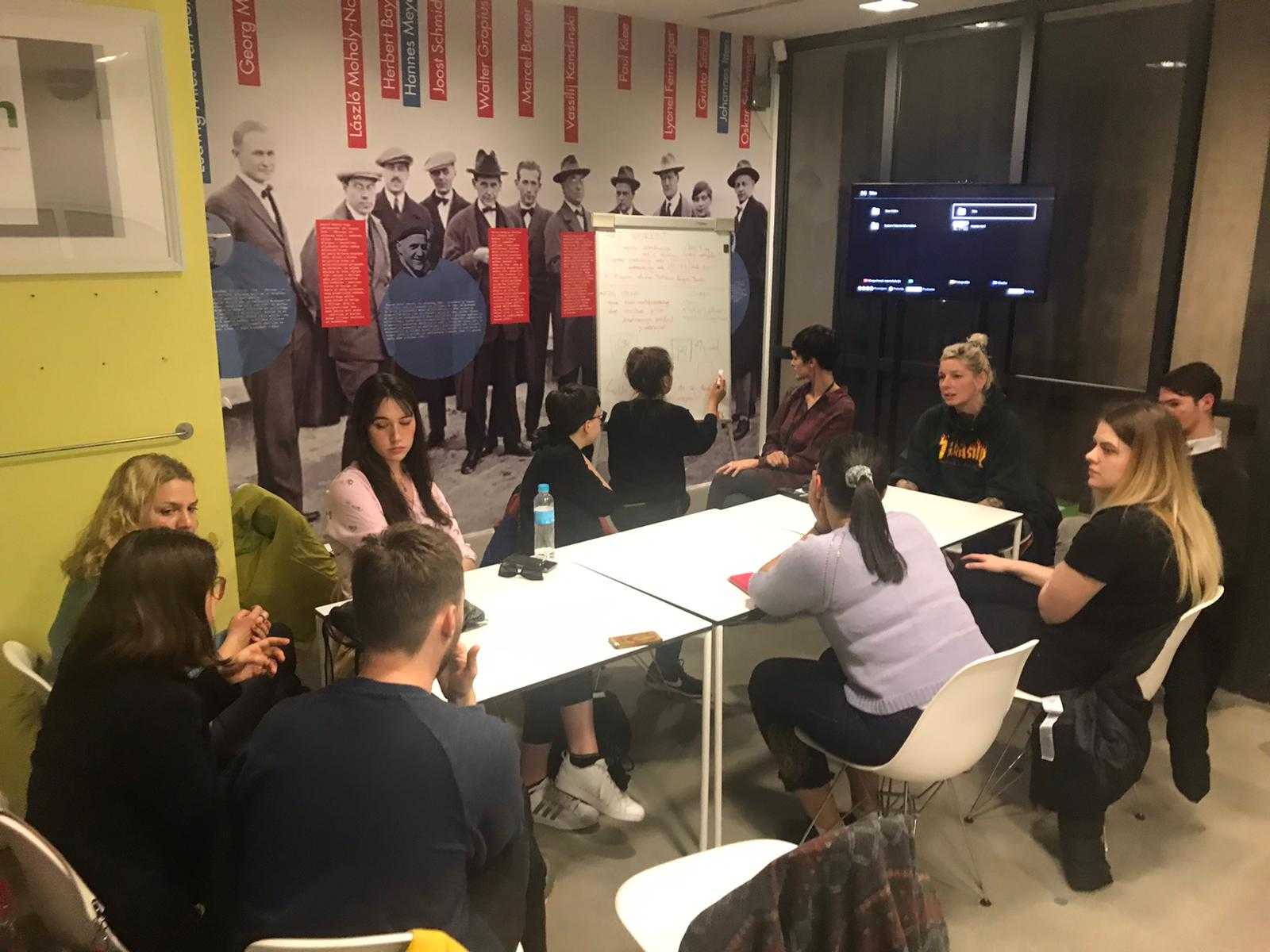 February 25 and March 3 2020
Brainstorming with MSU Youth Club and OKO.
---
January 18 2020
Red Light – Yugoslav Partisan Potography and Social Movement 1941–1945
A lecture by Davor Konjikušić for the Youth Club of MSU, Museum of Contemporary Art, Zagreb.
Davor Konjikušić
is a freelance journalist and photographer based in Zagreb, Croatia, working for a range of media in Croatia and Serbia. Born in Zenica (Bosnia and Herzegovina) in 1979, he studied political sciences but holds also degrees in cinematography and photography. His work uses photography as a primary medium in articulating his artistic concept, in which he explores the relationships between public and private, intimate and socio-political.
---
January 23 2020
Widerstand in künstlerischer Art
,
Bezirksblatt Melk
This article published in the regional newspaper describes the first preparatory meeting of all partners and artists in Melk.
---
January 21 2020
New Book:
The Art of Protest: A Visual History of Dissent and Resistance
Jo Rippon's
The Art of Protest
is published by Palazzo in partnership with Amnesty International. (
palazzoeditions.com)
A timely new publication explores the last century of activist imagery, exploring the role artists and designers have played in protest movements of all kinds.
---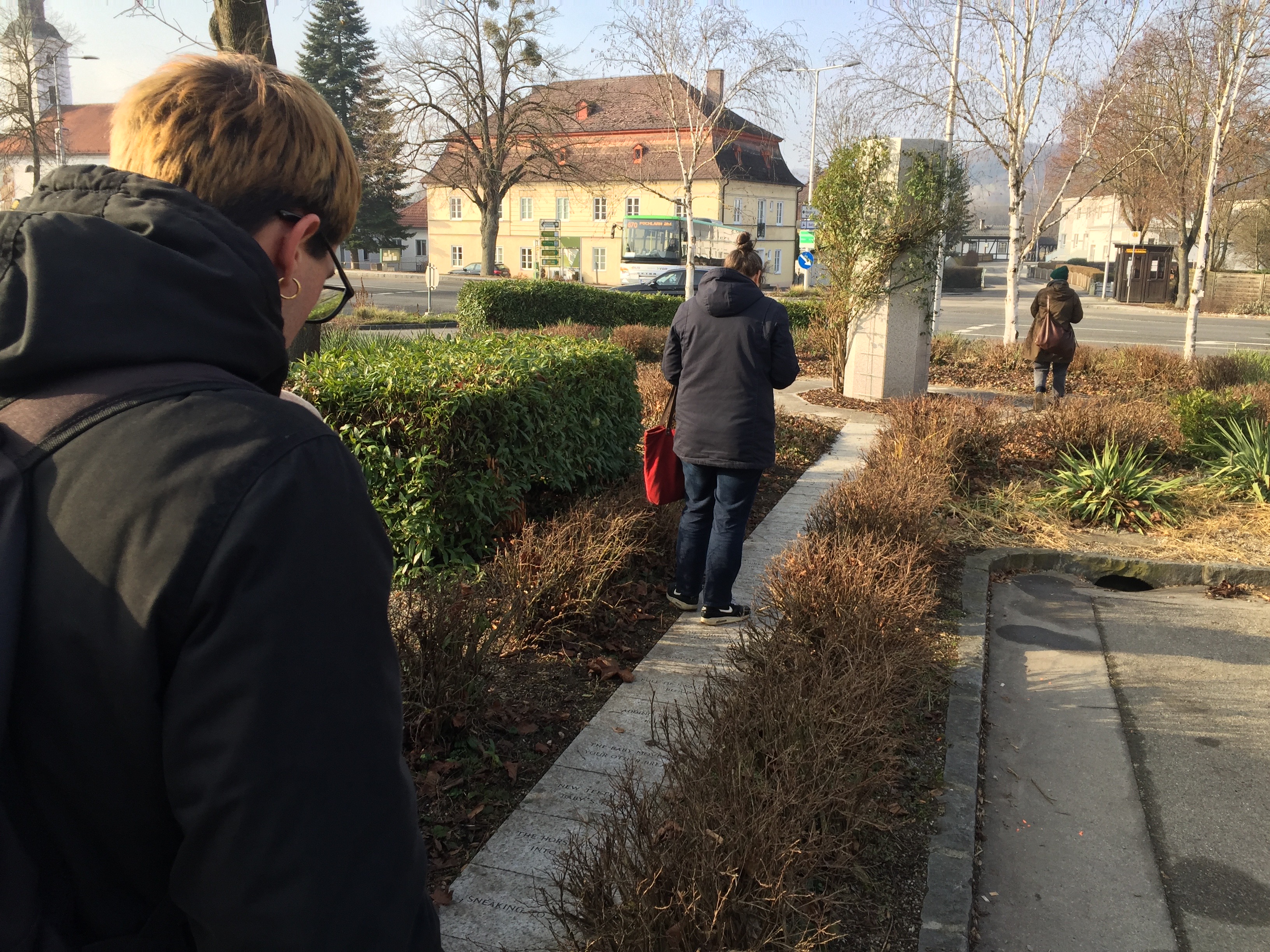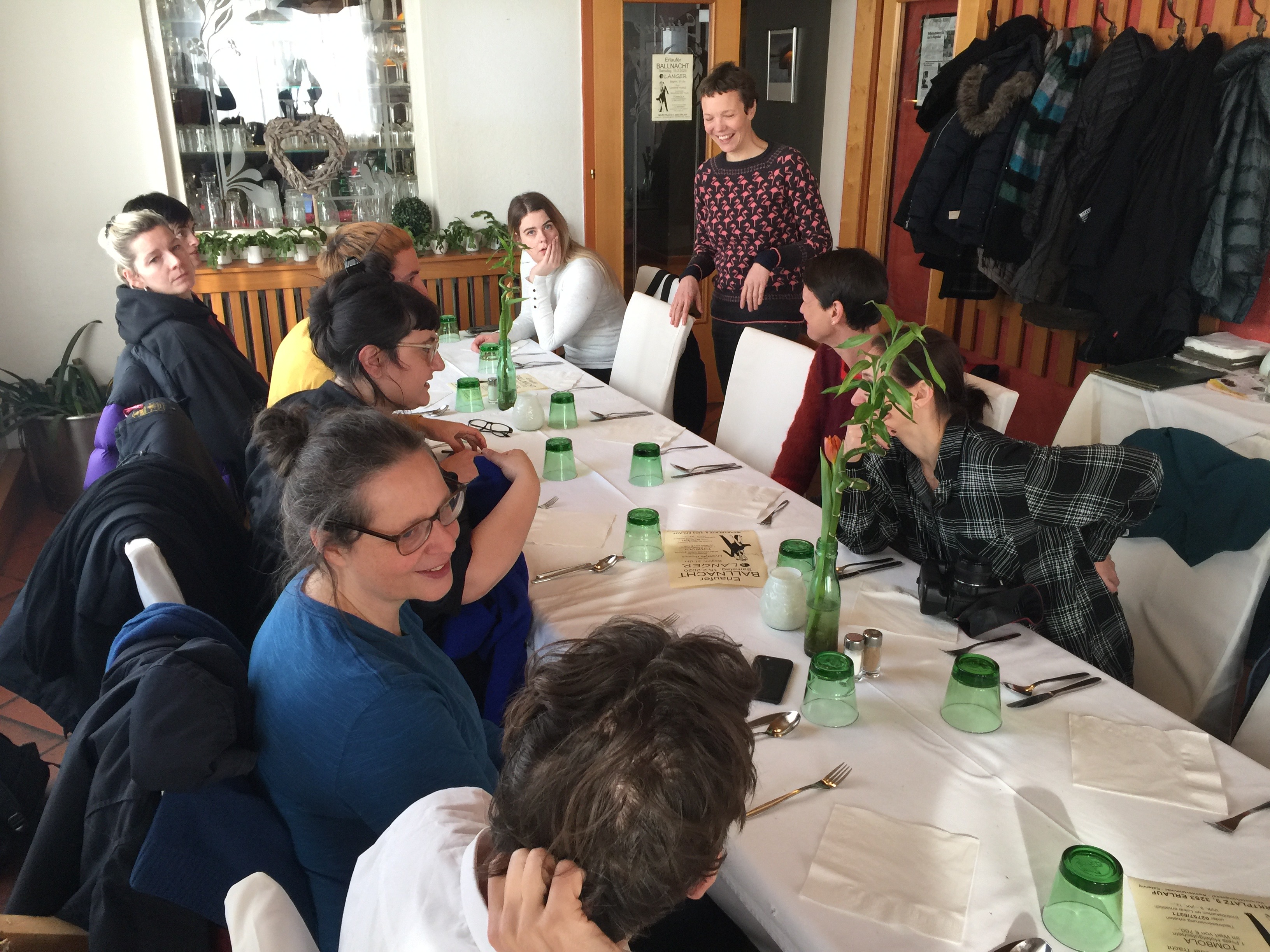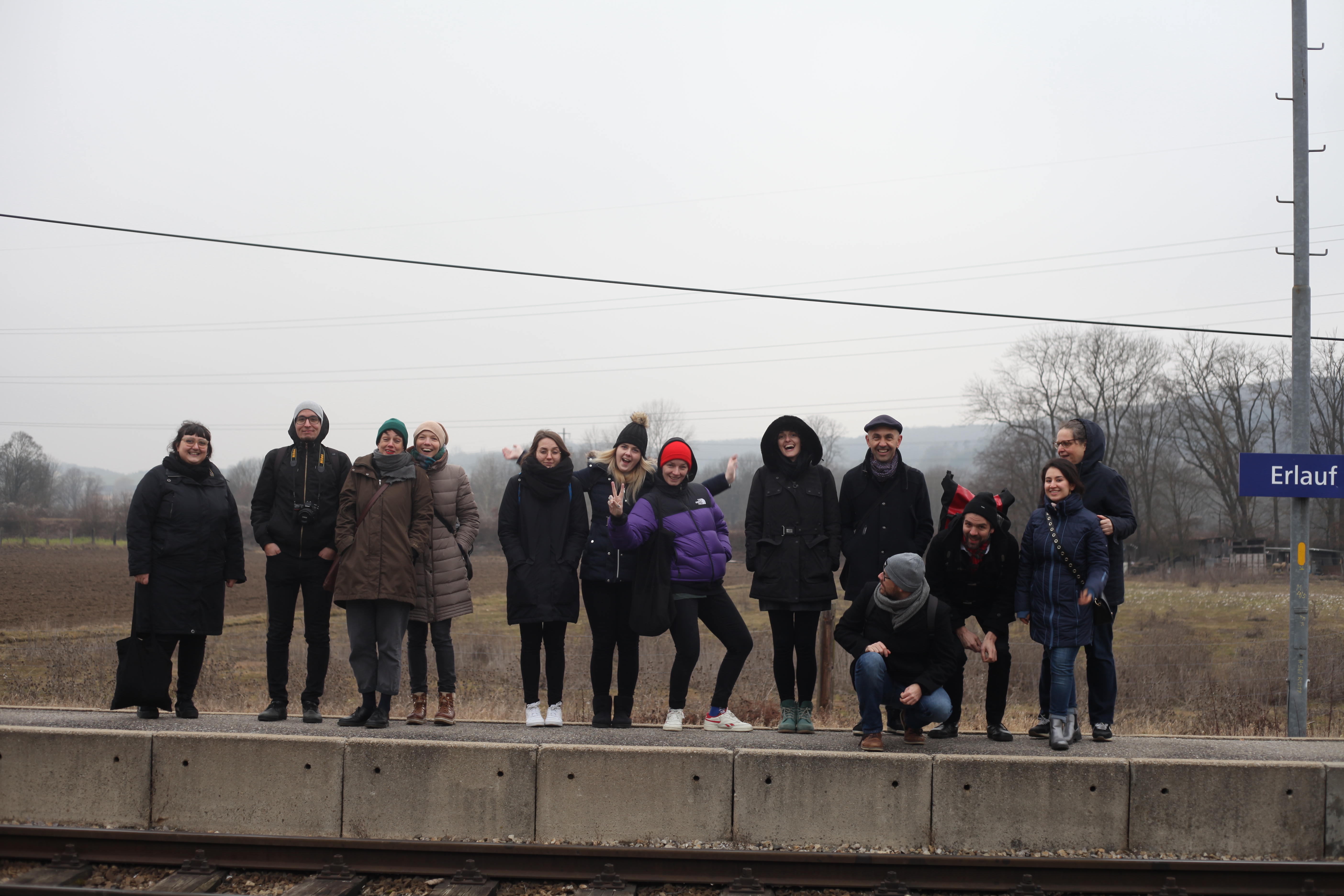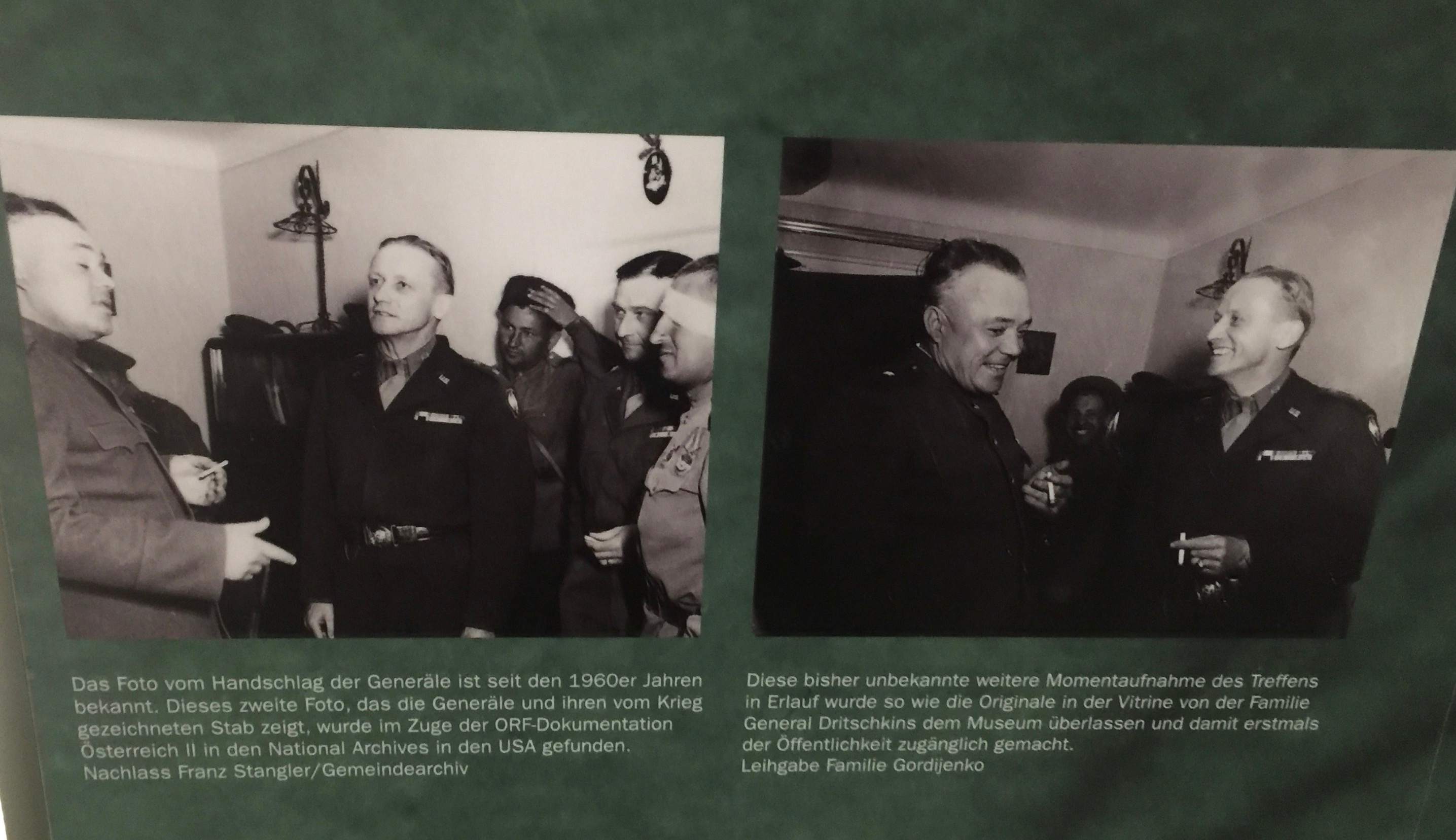 January 17 2020
Second day of our Multipliers Meeting in Melk: With the train we travelled to the peace community Erlauf. When the unconditional surrender was signed in Berlin on May 8 1945, on the same day a handshake between the two generals Dimitri Drichkin (Soviet Army) and Stanley Reinhart (U.S. Army) took place in Erlauf. In the late afternoon we visited the Melk Memorial.
---
The aim of co-creation is to create shared value. […] It's not about finding the right idea, it's about finding a multitude of ideas.

RICHES – Renewal, Innovation and Change: Heritage and European Society
[
Read more
]
---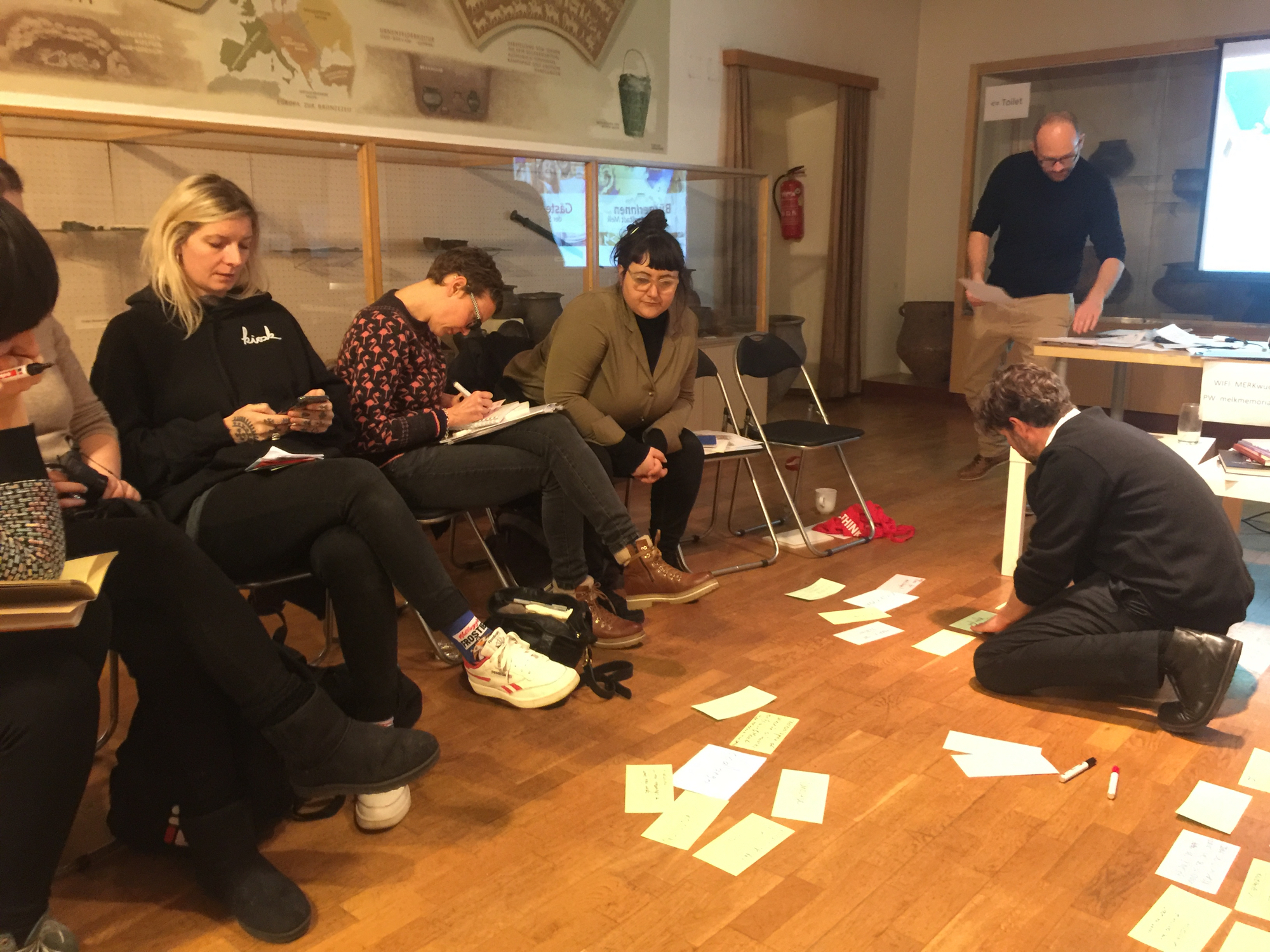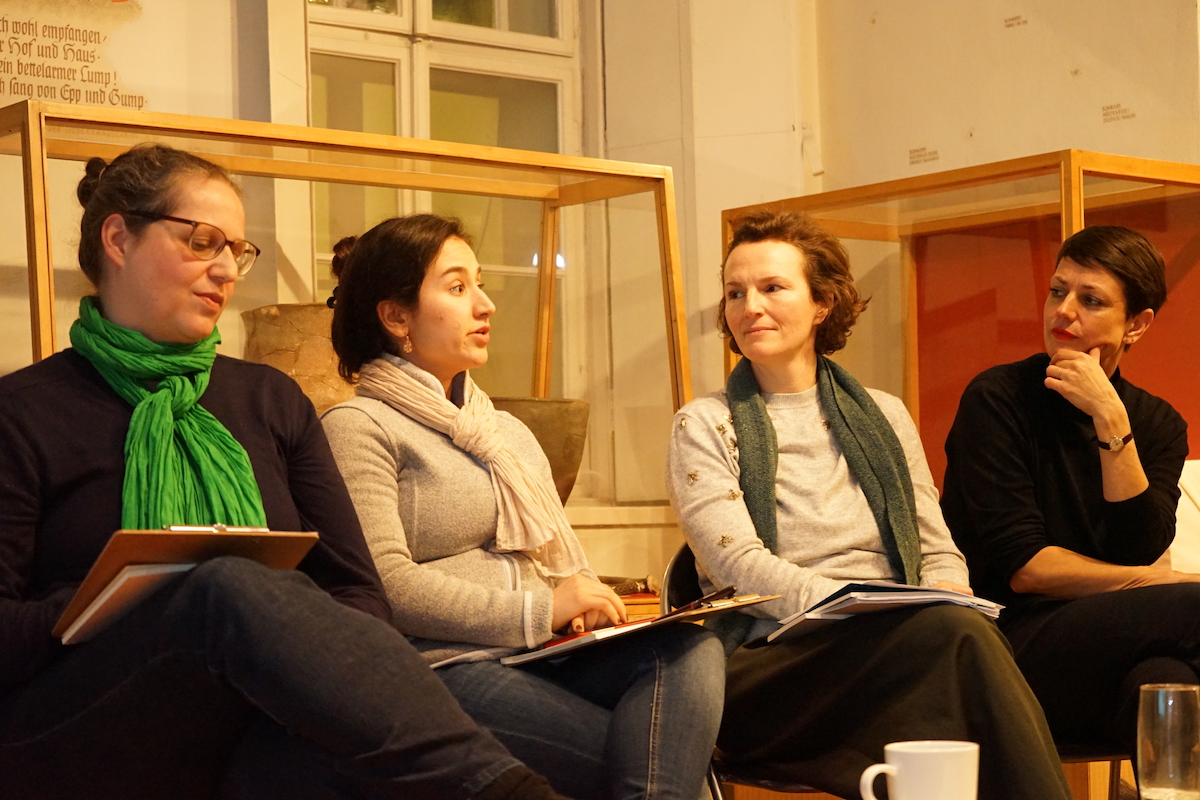 January 16 2020
Here are some photos of our arrival day of the Multipliers Meeting in Melk at the
Center for Contemporary History
. The very first time we all came together to jointly develop our project further. Many thanks to Christian Rabl for the warm welcome and the photos!
---
January 13 2020
Human Rights Education as an educational framework of our project
Empowerment through human rights education is about more than just content; it can only be achieved if the education process also includes participatory learning methods and is relevant to the daily lives and lived experiences of learners.
This lived knowledge and awareness of human rights principles builds a "culture of human rights" — that is, a society in which each of us is encouraged and empowered to take the initiative to respect, protect and promote the full spectrum of human rights for all. [
Read more
]
---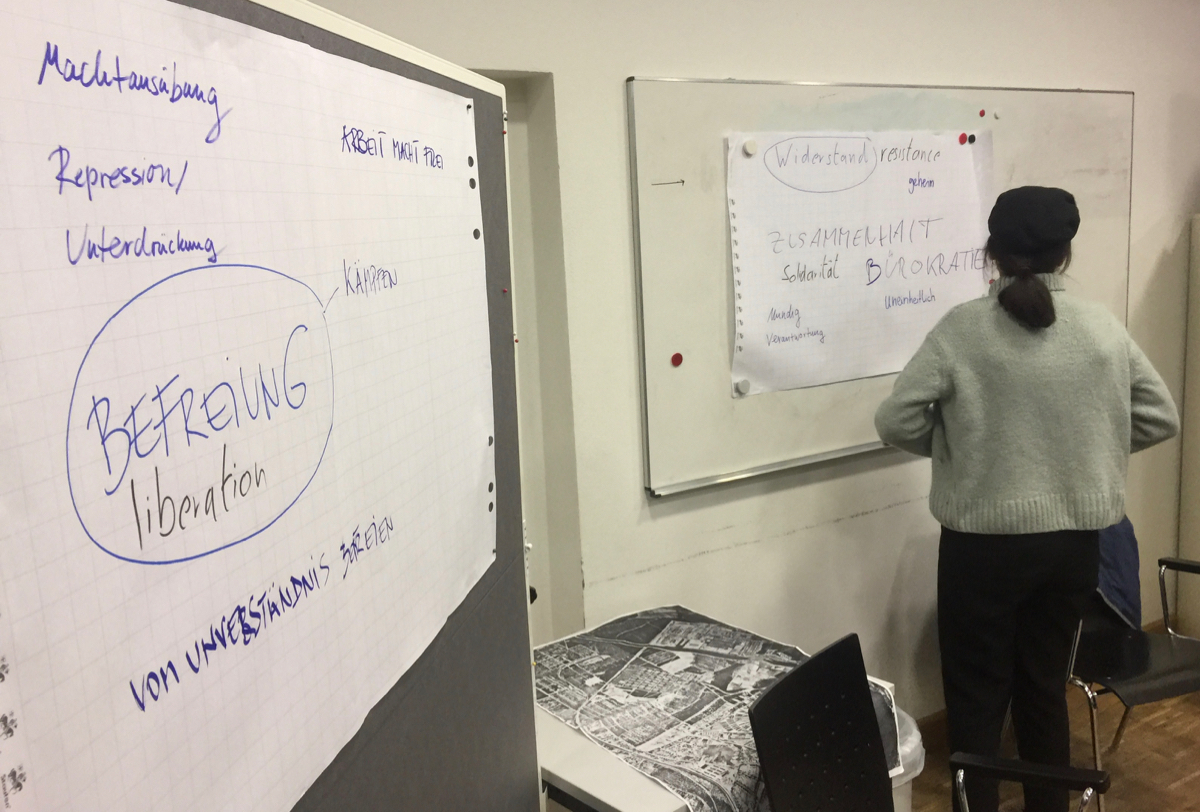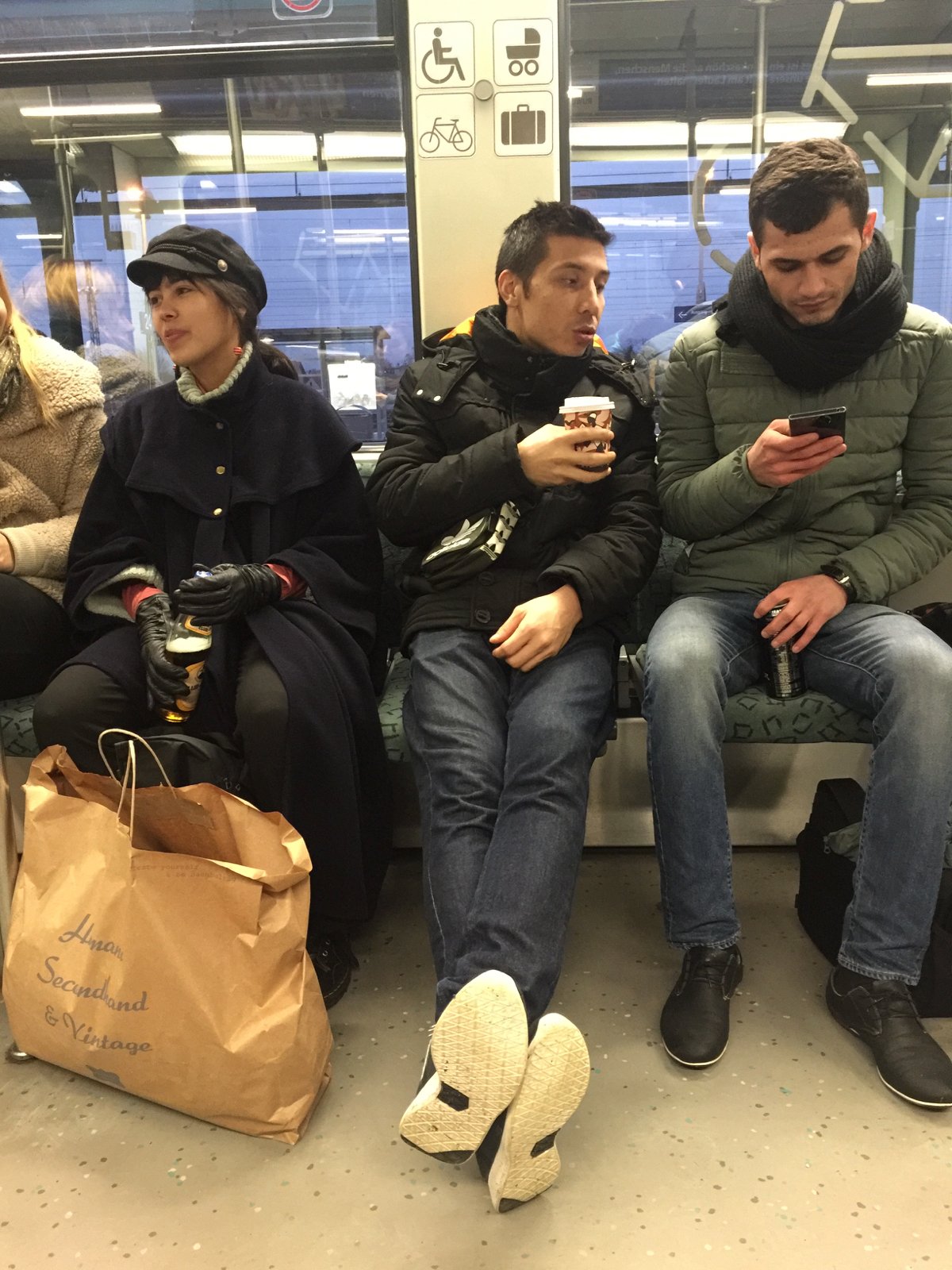 December 13 to 15 2019
Finally, we got together in Berlin to start with the workshops. The artist Katja Pratschke and Roman Fröhlich guided the Berlin youth group through the former concentration camp
Sachsenhausen Memorial
in order to search for traces of resistance. In the meeting rooms of the memorial we collected first ideas about the terms resistance and liberation. Leonhard Grond discussed the responsibility of the artist and architect in this context.
Already in one month, we will all meet in Melk to plan the workshops and youth exchange in May in more detail.
---
Peace is a certain resistance to the terrible satisfactions of war. It's a commitment to living with a certain kind of vulnerability to others and susceptibility to being wounded that actually gives our individual lives meaning.
Judith Butler
---
October 22 + 23 2019
After the workshop with the youths in Bolzano, Ruth Anderwald and Leonhard Grond travelled to the Memorial and Museum Auschwitz-Birkenau. In Block 27 they discovered documentation of the magazine
Vedem,
a resistence magazine dedicated to culture, arts and news
,
that existed from 1942 to 1944 in the Terezín Concentration camp.
Vedem
was hand-produced by a group of boys, among them editor-in-chief Petr Ginz and Hanuš Hachenburg. Altogether, some 800 pages of
Vedem
survived World War II. In 2003 Petr Ginz's drawing of planet Earth from the perspective of the Moon was taken to the Space Shuttle Columbia by Israeli astronaut Ilan Ramon, but the space shuttle was destroyed when it re-entered the Earth's atmosphere.
---
October 19 + 20 2019
This weekend the workshops in Bolzano started. After a guided tour through the documentation exhibition in the monument of the victory in Bozen/Bolzano, London-based artist Alessandra Ferrini worked with the group of young people at Museion.
---